Post by ConsumingFire on Jun 15, 2015 0:37:34 GMT -8
So I've been hooked on ES lore lately, particularly that of The Elder Scrolls III: Morrowind.
Now, the lore of the Elder Scrolls in general draws plenty of material from global mythology. However, the lore surrounding the gods of Morrowind draws heavily from Hindu myth.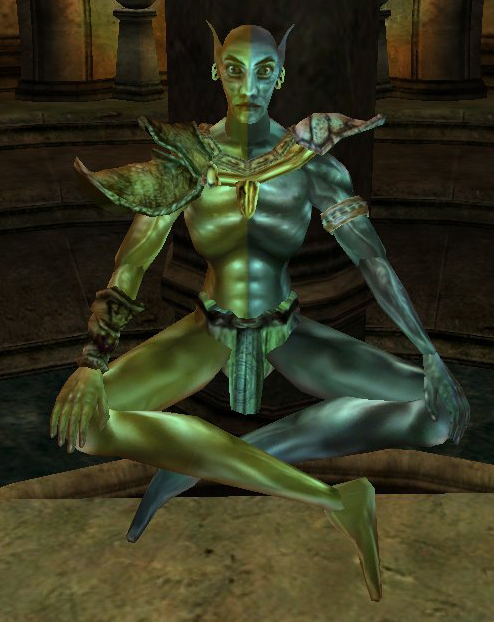 Vivec
Vivec would seem like an obvious example, and to me personally he was. Vivec is, together with Almalexia and Sotha Sil, a member of ALMSIVI, the Tribunal which ruled Morrowind from 1E 700 to 3E 427. Vivec is a god of duality, as is evidenced by his half-Chimer, half-Dunmer appearance. Where Almalexia and Sotha Sil are female and male, respectively, Vivec is heavily implied to be a hermaphrodite, thus explaining his androgynous appearance. This draws parallels to
Ardhanarishvara
, a composite of the Hindu gods Shiva and Parvati. Now, this is where the interesting stuff begins, as Vivec is known to have achieved a higher level of in-universe existence called CHIM (pronounced "kim"). According to the
36 Lessons of Vivec, Sermon 12
, Vivec learned of it through the Daedric Prince Molag Bal. CHIM is known as the secret syllable of royalty, and while it is quite difficult to describe, it is at its most basic level one of two routes a character learning that the world in which they exist is not real can take (the other being zero-summing, but that's for another day), and much of what is known about CHIM comes from out of game sources (namely, Michael Kirkbride) but is discussed extensively in both the
Mythic Dawn Commentaries
and Vivec's
36 Lessons
while being hinted at in other works. This state gives those who achieve it the ability to affect the world itself in profound ways. Only two characters in the entire series are known to have achieved CHIM: the aforementioned Vivec and the other being Talos. It's even speculated by some fans that Lorkhan's creation of Mundus was the first ever attempt of achieving it, albeit he failed to do so... possibly on purpose.
The ES universe is a universe of duality. Order and Chaos, Aedra and Daedra, Anu and Padomay. These are just a few examples. However, the biggest of all has to do with CHIM itself. I honestly never knew of a parallel to it until I read an interesting page explaining the nature of Dagoth Ur's godhood. Yes, it is inextricably connected to the Heart of Lorkhan... but at the same time it is so much more... it is a mysterious and nameless inversion of CHIM, and can be read about at the very article I found
here
. When a character achieves CHIM, they learn that they are one with everything. When a character does what Dagoth Ur did, they come to believe that everything is simply part of
them
. The article I linked implies that Dagoth Ur could possibly return to the Aurbis someday if he were to discover the means to do so. Lastly, the existence of CHIM could hint that the entire ES universe is nothing more than a dream world, perhaps the product of some primordial sleeping god. That, or the characters are doing some very
strange
things to the Fourth Wall.
Thoughts? I could be only half-right or even totally wrong on this, which is entirely possible...